words _ gian paolo galasi
François Carrier is a prolific altoist/sopranist/flutist now living in London at the Quebec Artist Residency from the CALQ.
30 years of activity playing with Paul Bley, Gary Peacock, Bobo Stenson, Tomasz Stanko, Uri Caine and Mat Maneri and his own music passed, and o
n December 6th, 2011 Carrier will be hosted at
The Vortex Jazz Club
with double bassist John Edwards and drummer Michel Lambert, to celebrate Leo Records' new
"In Motion"
, featuring the Montréal-born multi-reedist and his more recent trio with Lambert and pianist
Alexey Lapin
.
Final chapter of this year tryptich, to which you can add Ayler Records release of "Entrance 3" with Bobo Stenson on piano, again Lambert on drums and Pierre Coté on double bass, Carrier most enduring collaboration under his own name. It can be embarrassing being in charge to testify about such prolfierating creative renditions, but after pushing "Inner Spire" (Leo Records, 2011), recorded during a tour in Moscow last december, on the player, the feeling of the music let you forget how much insanely such a small business as improvised and avant garde music is filled with so many records every months.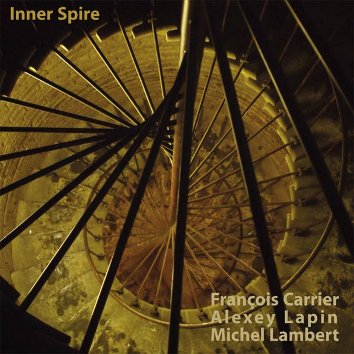 True as it can be how easy a musician involved in public funding can become so prolific, and obviously starting with no point in blaming Carrier for that - real problem is, how much it is difficult usually for a musician sponsoring such projects - the urge to document this relatively new trio is more than comprehensible.
What's more, the compositions on this record are so different in mood and substance - 'Inner Square' is a sweet and intense struggle for squeaking horns, lyrical piano chords and drumming barrage, 'Square away' is built on piano heavy clusters, tightroped horns and swirling brushes, 'Tribe' a more meditative weaving, with 'Round Trip' perfectly coupling and preparing while climaxing in order to introduce the last, openly meditative 'Sacred Flow', with almost impressionistic piano statements and more dissonant breaks - that one wonders if, even if being Carrier music more defining that suggesting, it can be correct to put him between two of his most famous partners, Uri Caine, post-modern but straight, and Mat Maneri, less melodically defined but equally committed with stretching sound into space.
The companion CD "All Out" (FMR Records, 2011) recorded during the same tour but in St. Petersburg two days later, is completely different: More relaxed, gentle, in some way less adventurous, but, let's put it as it is.
I would say a little bit 'manieristic', but in writing so - knowing there's no more subjective statement than that - I'm compelled to specify that this is the risk for every musician who try to deal with a pre-defined musical shape - even such as 'improvised music slash free jazz'.
I'm just listening again to the record and so the last composition 'Of Breath', my favorite,
get me to the point to judge Carrier trio so much good in dealing with the strain of dissonance and its melodic - not harmonic - resolution through the interplay, to seem full of honest, humanistic faith in the aesthetics (of improvised music). The only thing is, you need 75 minutes to get the whole point.
While waiting to hear the new record so to complete the puzzle, I'd like to add something about François Carrier collaboration with Swiss singer and performer Véronique Dubois on "Being With" (Leo Records, 2010). Conceived as an effort to mix sax and human voice conveying them into one, the good part of it is the widening of Carrier palette so to include flute, voice and objects as percussions/added colors; the interplay so is augmented with an onomathopeic quality that push me, after listening to a record not perfectly on focus, but at least coherent, to ask to Mr Carrier and his closest collaborators, to dare more.
François Carrier performing @ The Vortex Jazz Club on December 6th 2011 - h. 8.30 pm - Free